---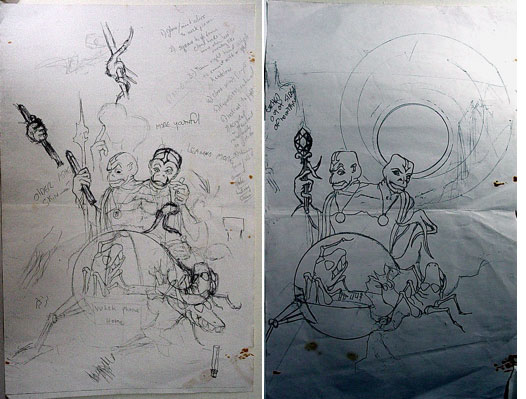 Two sketches by Dean Morrissey 1982. The "before" sketch contain Peter's 8 notes to Dean.
Glow/mood colors to neck pieces
Square high dome Clone heads more like aliens less monkey like
Turn right hand Vulch to connect with right hand Clone
Clone wispy fingers
Expressions enhanced
Instinct to fight
A crystal in his hand ready to strike
Shining force field around globe, heat ray, shimmer
As a joke, Peter penciled in "Vulch Phone Home" on the Vulch ship. The "after" sketch is Dean's next take which comes closer to the actual cover layout.
---
Photo album generated by album generator a MarginalHack by David Ljung Mon May 21 14:23:38 2018